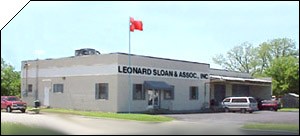 Leonard Sloan & Associates Inc. was founded on October 8, 1976. We originally set out to sell silk screened apparel to the hospitality, restaurant and bar market. We brought the first computerized embroidery machine to Dallas County. We have grown over the years and presently have our own facility, located at 2720 Manor Way.
We have seen many changes in our industry in the 40+ years we've been in business. We promote the use of the highest quality garments as well as the highest quality processes in our silk screening and embroidered logos.
In silk screen printing we promote the use of water-based inks, discharge inks, plastisol inks and the newest inking system based on silicone inks. In embroidery we promote up to 9-color with appliqué, as well as 3D logos. Our custom uniforms are designed by Libby Wood & Company.
We are located just minutes away from Dallas Love Field and downtown Dallas Texas. Stop by and take a tour of our facility.
Need directions? Click here for a Map.