Dallas screen printing company creates custom t-shirts for Dallas philanthropic joint venture.
Dallas, TX – LSA Contract Screen Printing, a 40-year veteran Dallas screen printer and restaurant apparel company, today announced their selection as supplier of custom designed t-shirts – "DirkShirts" – for The Dirk Nowitzki Foundation/Which Wich® Superior Sandwiches joint promotion.
The promotion was conceived to celebrate Nowitzki's 20th year in the NBA, and, to thank him for the positive impact he has made on the Dallas area. For this campaign Which Wich created a new line of "DirkWiches". A dollar for every DirkWich sold will be contributed to The Dirk Notwitzki Foundation which supports the wellbeing, health and education of children affected by poverty, illness, abuse, and neglect.
DirkShirts produced by LSA Contract Screen Printing, will be available for purchase at Which Wich locations in the Dallas area with proceeds benefitting the Foundation.
These custom t-shirts are also available for purchase online from the Which Wich website enabling Dirk and Mavericks fans outside Dallas to support the initiative. Click here for DirkShirts.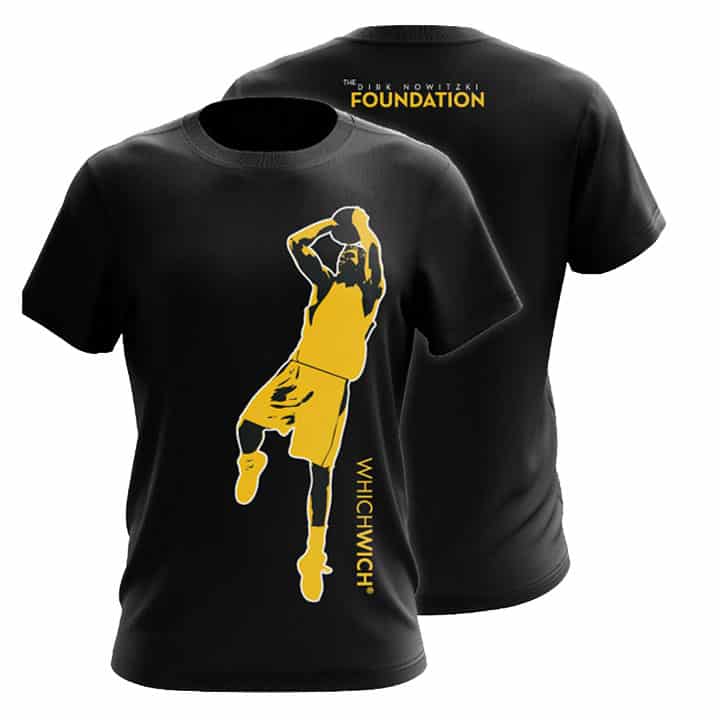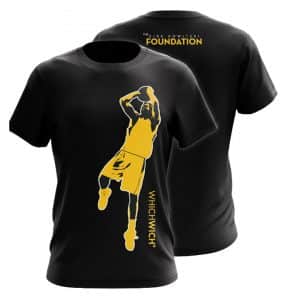 The DirkShirt begins with a luxurious American Apparel 100% fine jersey tee in black. It features an oversized imprint (19.5" x 22") of Dirk Nowitzki in action on the elongated left chest. To maintain the soft "hand" and superior breathability of the fine jersey fabric, the image is screen printed with dye-extraction water-based inks. The back features the Dirk Nowitzki Foundation logotype at top center.
"We're excited to be involved with this great campaign" said LSA founder Leonard Sloan. "Dirk is a great role model for Dallas, and, he's had a positive impact on children in our community for years."
LSA Contract Screen Printing was chosen as supplier of the The DirkShirt based upon its acknowledged superior color accuracy on black fabrics using dye extraction water- based screen printing.
When asked how he does it Leonard Sloan, founder of LSA, replied mysteriously "You can learn a lot about screen printing in forty years, if you pay attention."
MEDIA CONTACT
Leonard Sloan
LSA Contract Screen Printing
214.891.5607
email: leonard@wholesalecontractscreenprinting.com
website: https://wholesalecontractscreenprinting.com
ABOUT LSA CONTRACT SCREEN PRINTING
Leonard Sloan & Associates Contract Screen Printing (LSA) was founded on October 8, 1976 to sell silk screened t-shirts, embroidered apparel and custom uniforms to the hospitality, restaurant and bar markets. LSA brought the first computerized embroidery machine to Dallas County and premiered dye extraction water-based inks here in 1987. More information available at https://wholesalecontractscreenprinting.com
ABOUT WHICH WICH:
Which Wich® Superior Sandwiches was founded in Dallas in late 2003 by restaurant entrepreneur, Jeff Sinelli. The national sandwich franchise chain is best known for its customizable sandwiches, creative ordering system, and personalized sandwich bag. In 2014, QSR named Which Wich one of their "2014 Best Franchise Deals" and Forbes listed Which Wich as one of their 2014 "30 Best Franchises To Buy." Which Wich is also the recipient of the 2015 Nation's Restaurant News MenuMasters "Healthful Innovations" award. Which Wich currently has 500 locations open or in development in 40 states and 12 countries. More information available at http://www.whichwich.com.
ABOUT THE DIRK NOWITZKI FOUNDATION:
The Dirk Nowitzki Foundation's mission is to put children first and assist them through programs focusing on their wellbeing, health and education. The Dirk Nowitzki Foundation awards grants yearly and funds projects to nonprofit organizations which aims to prioritize the overall wellbeing of children. The Foundation lifts up children who are affected by illness, poverty, abuse and neglect through proper channels of guidance and directs them on a path to success. More information available at http://dnfoundation.org.
-O-